Google My Business has steadily evolved over the years, adding new features for local businesses along with several name changes. These have included Google Places, Google+ Business Pages, Google My Business and currently Google Business Profile.
There are lots of different areas of your Business Profile that can be used to improve your presence on the map in your local area and optimising your Google Business Profile is a big part of local SEO.
Google Business Profiles are ideal for local businesses of all sizes that offer physical products or services to a local community. This could be a baker, hairdresser or a grocery store. Your Business Profile means your business can appear for relevant searches on Google maps as well as the map pack in the search results.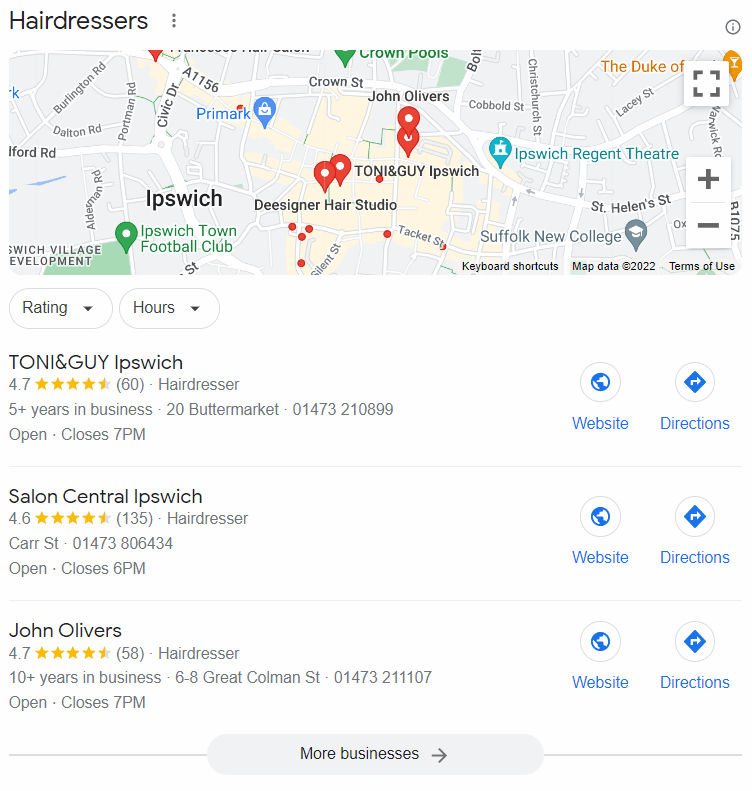 Adding your information
Business name
The first step when optimising your Google Business Profile is to add your business name. In the past, keywords within your business name would give you a big advantage in appearing at the top of the results however this has recently been dialled back. It's also against their terms and conditions to add keywords that don't appear in your business trading name. For example, if we renamed our profile from "Capsule Marketing" to "Capsule Full Service Digital Marketing Agency" that would be against their terms.
Business categories
Business categories are the categories that are relevant to your business and that you want to have the chance to appear in the search results. You can only have one primary category which will be the category that is most relevant to your business, as this will have the most weight when it comes to ranking your business for searches. As an example, if you're an accountant your primary category would be "Accountant" however your other categories could be tax assistance, financial advice and accounting firm.
Location
Your location is another important ranking factor when it comes to your Business Profile. When people search for local businesses they are only shown businesses in that area. This will be the actual location of your business as Google will send you a postcard with a verification code to that address. If you run your business from your home you can hide your address on your listing and use service areas instead.
Service areas
Service areas let you define areas where you provide your services. This is useful for businesses such as plumbers, electricians and other trades where you visit your customer's premises. You can also use this instead of showing your address on the map itself.
Opening times
A simple but often underrated feature of your Business Profile is the opening times section. If you regularly update this, even if the hours stay the same, it will show potential customers that you're open for business. Nothing is more frustrating for customers than arriving at your business, only to find it closed because your hours haven't been updated.
Special opening hours
Another overlooked area is the special opening hours. When it comes to Christmas, Easter or other public holidays it's well worth adding special opening hours, even if they are the same as your regular hours. This stops people from having to guess if you're open or not.
Phone number
Some simple information to add to your listing but always helpful for potential customers, especially if it's somewhere you need to book like a restaurant. This also helps Google to match up mentions of your business across the web including other business directories.
Website address
Another simple one to add but that's always helpful. Adding your website address means that people can quickly find your site and find out more information about your business.
Appointment links
If you have a page on your website where people are able to directly book appointments you can add this link here. This way people can quickly and easily book an appointment, such as a haircut, without having to call or send you a message.
Products
You can add the products you offer to your Business Profile. This way customers can browse your stock to check that you sell what they're looking for, as well as whether it's in stock.
Services
Like products, you can add the different services your business offers. This can help you appear for more searches if the services you offer don't fit neatly under your primary category.
Reviews
One of the main features of Google Business Profiles is that customers can leave reviews for your business. Lots of positive reviews from your customers show Google that your business is well respected and that increases their trust in your business. This makes Google likely to rank it higher than a competitor that doesn't have many reviews or has lots of negative reviews.
Another benefit of reviews is that in the search results, it can show snippets of these reviews if they are relevant to the searcher. For example, if someone was searching for the best coffee and your business has several reviews that mention you have the best coffee in the area, these snippets would appear underneath your listing on the map.
To make the most of this feature it's always recommended to ask your customers to leave a review on Google and you can create a short link which will take them directly to your profile. Here is the short link to our Google Business Profile, which when clicked, will directly open the review page.
We also recommend replying to reviews that your customers leave. This way you can address any negative feedback and it encourages others to leave a review if they can see the business owner cares about their feedback.
Messages
The messages feature allows your customers to message you directly from your profile. If you have someone that is able to manage any incoming messages then we recommend switching this on as it provides a simple way for customers to get into contact with you.
Photos
Keeping your photos up to date helps to show customers that you have an active profile and can be a great way to show off fresh produce, the atmosphere of your cafe or your team. Customers can also upload their photos to your profile so it can be worth encouraging this if you have a visual business.
Posts
Using the posts feature is a good way to keep customers up to date on any special events you might be running such as a cocktail night, 2 for 1 theatre tickets or a special promotion code. This feature also shows customers your profile is up to date, making them more likely to trust that the other information on the page is also up to date.
Time to review your profile
The best way to take advantage of your Google Business Profile is to make sure you've filled it out as completely as you can, making use of all the information you can give Google about your business. Now is the time to review your profile and make sure that all your information is up to date. If you're looking to increase your presence in your local area get in touch with our local SEO experts who can help your business stand out from the competition.