In July 2023 Google will be sunsetting Universal Analytics, meaning that whilst your historical data will still be available (for an unspecified period of time), your existing UA properties will cease collecting and processing new data. In place of Universal Analytics you will need to create a GA4 (Google Analytics 4) property, which will be the standard moving forward – whilst many marketers have been putting off getting their heads around GA4's new interface and data processing methods, the time has now come to ensure that you are set up ready to start collecting data by July '22 in order to ensure that you have year on year data available when the official "switch" happens.
Why the hesitancy to transition?
Whilst Universal Analytics was originally introduced in October 2012, the basic functionality of Google Analytics hasn't drastically changed since it was first introduced in November 2005 – Universal Analytics gave some additional features such as cross-platform tracking, flexible code and the introduction of custom metrics and dimensions, but these were more enhancements than an overhaul of the interface. Google Analytics 4 on the other hand…
As well as fundamentally changing the way in which data is processed, GA4's interface is dramatically different from Universal Analytics – the navigation has changed, default reports have changed, some metrics are no longer available, some have been renamed… There is a steep learning curve, and even some of the most basic reports that you may use in UA can be very tricky (or even impossible) to recreate in GA4.
What are the key differences between Universal Analytics and GA4?
Event-Based Model
The first thing to understand about GA4 is that whereas in Universal Analytics there are several hit types, Google Analytics 4 is entirely event-based: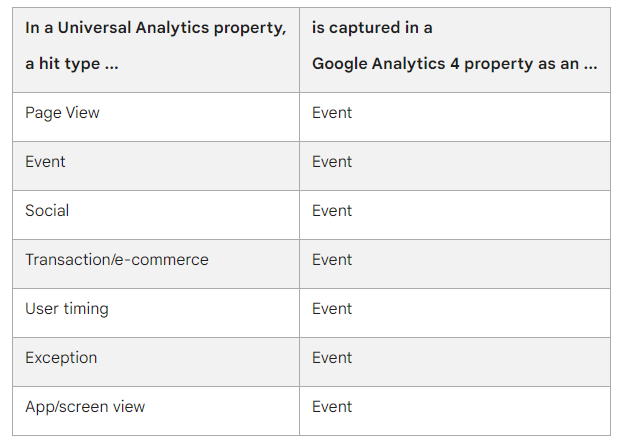 Credit: Google
Some events that you may have had to set up in Universal Analytics are already there when you set up your GA4 property (such as a page scroll), whereas others will need to be set up manually.
Delayed Reporting
Whilst Universal Analytics will fairly swiftly show you website performance stats within your Audience, Acquisition, Behaviour and Conversions reports, GA4 will take 24-48 hours to show up – if you're currently providing a monthly report on the 1st of each month, you might need to push that back a day or two!
The good news is that there is still a Realtime report which will show you what's happening right now and for the past 30 minutes, so if you need to test that certain things are tracking correctly then you'll be able to do that.
Focus on User Engagement, not Sessions
The concept of a "session" was based on how users interacted with websites 10+ years ago, whereby they would visit a website, navigate through it and then leave – after a certain amount of idle time, that session would be deemed to have ended.
Nowadays browsing behaviour is very different – a user may well visit a website, have a quick scroll through the content, leave it open to read through more thoroughly later on (or even another day) and open a new tab to continue working/browsing. In Universal Analytics this would have been classed as one session (the first engagement with the website), whereas GA4 would class this as two separate active sessions.
Changing Traditional Metrics
We'll see some classic metrics such as "bounce rate" disappear from our vocabularies, and other metrics such as "users" will be calculated differently (Universal Analytics referred to total users as "users", whereas GA4 refers to active users as "users", for example.
How do I set up a Google Analytics 4 (GA4) property?
If you head to the admin section of your Google Analytics account, you will now find that when you go to create a new property, it will default to a GA4 property:

We recommend that you set up a new GA4 property to run alongside your existing Universal Analytics properties – Google will guide you through the setup process, and when you have set up your "stream" you will be provided with various options for implementation. If using Google Tag Manager, you will need to make sure that you create a GA4-specific tag rather than Universal Analytics: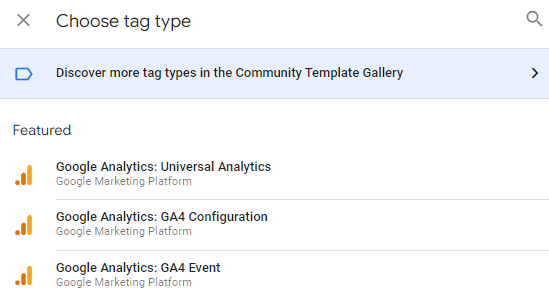 When selecting "Google Analytics: GA4 Configuration" it will prompt you to enter your Measurement ID, and then once you've selected the "All Pages" trigger you'll be set.
What about conversion tracking? Can I port my goals over?
Yes and no… Once you have connected your UA and GA4 properties, if you head to the setup assistant then under "Conversions" you'll see an option to import existing goals:

Follow the instructions to send those conversions over, but depending on how you're tracking your conversions, you may well need to go through some additional steps to complete the process.
Since GA4 bases everything on "events", it will be necessary to ensure that all conversions are based on events, and this may require separate GA4 event tags in Google Tag Manager (so even if you have UA events firing to trigger events, you may also need GA4 events). Alternatively, you can add a connected site tag.

Useful References
Need more assistance? Give the team at Capsule a call!
If you need more help with setting up your Google Analytics 4 property, or you're struggling to navigate or understand the data, the team at Capsule are here to help! We pride ourselves on being at the forefront of emerging technologies – our digital specialists can assist across the full spectrum of digital marketing, from tracking to traffic acquisition, brand lift, campaigns and reporting – get in touch today!